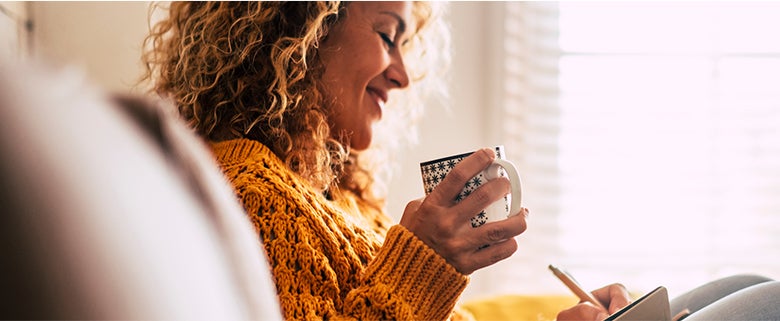 4 Easy Ways to Incorporate Mindfulness Into Your Holiday Season
While we all hope that the holiday season will be a time of rest and reunion with family and friends, it can also add stress to an already busy season. Whether it's financial pressures, family tension, or the sadness that accompanies marking holidays without loved ones we've lost, the season can be more challenging than we'd like.
Mindfulness — the practice of living in the moment and embracing the present and your circumstances without judgement — can help manage stress, not only during the holidays, but everyday.
You may have heard of mindfulness - it's become more popular in pop culture as well as in psychotherapy practices across the country. Therapists have found mindfulness to be an excellent way to reduce stress and increase relaxation for their clients. In fact, there's growing evidence that it can help alleviate both anxiety and depression.
1-800 Flowers has teamed up with Talkspace Online Therapy, to help customers tackle some of their holiday stress and meaningfully connect with loved ones. Read on for more information and guidance from Talkspace on how to practice mindfulness this holiday season.
How to Practice Mindfulness
Mindfulness practices are good for both managing and maintaining your mental health. These practices, with origins in eastern religion and philosophy, have been studied by researchers and are shown to help with stress, anxiety, chronic pain, depression, OCD, and even addiction. Mindfulness exists in many forms — it's anything that allows you to be fully aware of the facets of the body and mind. If you're like most of us, and not used to slowing down and paying close and careful attention to the world, it can be challenging to incorporate mindfulness into your daily routine.
The key to embracing mindfulness and embodying its principles is easier than you might imagine, however — the easiest way is simply to turn yourself into a keen observer of the world. The five senses —  sight, sound, smell, taste and touch — can help you connect with what's around you and slow down so that you experience and live in the moment. 
Many of us are so focused on our immediate obligations — work, school, kids, the commute — that we know the world around us only as a backdrop. Often it doesn't even register. To fully appreciate the world and live in it, we must slow down and notice our environment. It can even help to fully appreciate your surroundings by describing to yourself what your senses are experiencing. When you draw attention to your role as an observer, the obligations and stresses become less pressing and seem to fade into the background.
If you're looking for a place to start with mindfulness, here are some mindful practices you can implement into your busy holidays:
During your morning routine this holiday season, pick a task you can really focus on — like drinking your coffee or eggnog, brushing your teeth, or blow drying your hair, or wrapping presents — and do your best to use all five senses to pay attention to this task. Focus on what the task sounds, looks, feels, smells, or tastes like. Starting the day with a small task to focus on, can help set your focus for the rest of the day.
If you're spending long hours at the office, or studying, before the holiday break, getting up to stretch and take a walk around the block can be helpful. Focus on your body, taking steps, the trees, sidewalk, and birds — and breathe deeply.
Finding a quiet space to sit and close your eyes this holiday season — often referred to as classic meditation — can be practiced by focusing on your breath, counting to three between each inhale and exhale.
If sitting quietly with your eyes closed isn't your cup of tea (or mug of cocoa), a more "distracted" method of mindfulness might work best. Distracted mindfulness often includes a hobby or activity you enjoy. It could be anything that helps you block out the rest of the world, including things like: caroling, reading, dancing, a peppermint-scented bath, or taking a walk in the snow.
It's important to remember that mindfulness can look different for everyone. For some, it could be breathing exercises, classic meditation, or practices like yoga, but for others it might be painting, a run outside in the brisk winter air, or playing video games.
If you're interested in further exploring mindfulness practices, or other methods to better your mental health this holiday, many professional therapists are trained to help you implement these practices that will boost your mood and get you started on your journey toward better mental health.