Cozy Christmas 5 Box Gift Tower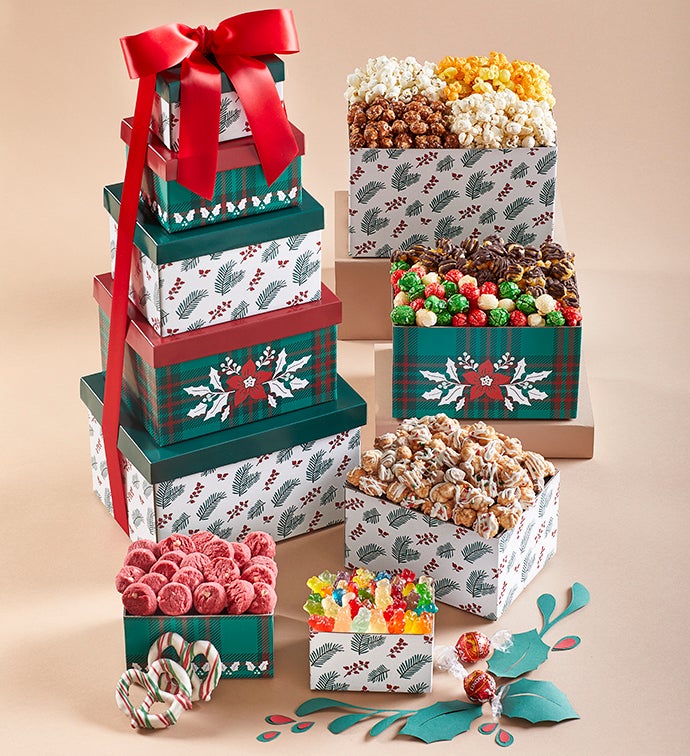 Add a photo, personal message, or both!
Personalize it FOR ONLY $4.99!
available to ship november 13 2023
Popcorn Delights
Holiday Cookie Dough Popcorn (6 oz)
Holiday Kettle Popcorn (6 oz)
Cracked Pepper & Sea Salt Popcorn (1.6 oz)
Chocolate Kettle Popcorn (6 oz)
Ranch Popcorn (1 oz)
Drizzled Caramel Popcorn (3 oz)
Cornfusion™ Popcorn (3.5 oz)
Albanese® 12 Flavor Gummi Bears (1 oz)
Red Velvet Batter Cookies (3 oz)
2 Lindt Lindor® Chocolate Truffles (.42 oz per piece)
2 White Confection Covered Drizzled Pretzels (.8 oz per piece)
Gift Dimensions: 9 1/4 in L x 7 in W x 18 in H
Net Weight: 33.54 oz
Snuggle in for a Christmas full of snacking with this impressive five-box gift tower. Inside is an irresistible assortment of treats, starting with seasonal popcorn flavors of holiday cookie dough and holiday kettle. There's more fantastic popcorn in drizzled caramel, cracked black pepper & sea salt, chocolate kettle, and Cornfusion™ flavors. The goodies don't stop there as Lindt Lindor® chocolate truffles, Albanese® gummi bears, and more incredible snacks round out this delectable display. Designed to delight, this tasty gift will be one they'll never forget.
Popcorn Delights
Holiday Cookie Dough Popcorn (6 oz)
Holiday Kettle Popcorn (6 oz)
Cracked Pepper & Sea Salt Popcorn (1.6 oz)
Chocolate Kettle Popcorn (6 oz)
Ranch Popcorn (1 oz)
Drizzled Caramel Popcorn (3 oz)
Cornfusion™ Popcorn (3.5 oz)
Albanese® 12 Flavor Gummi Bears (1 oz)
Red Velvet Batter Cookies (3 oz)
2 Lindt Lindor® Chocolate Truffles (.42 oz per piece)
2 White Confection Covered Drizzled Pretzels (.8 oz per piece)
Gift Dimensions: 9 1/4 in L x 7 in W x 18 in H
Net Weight: 33.54 oz