Cozy Holiday 3 Box Gift Tower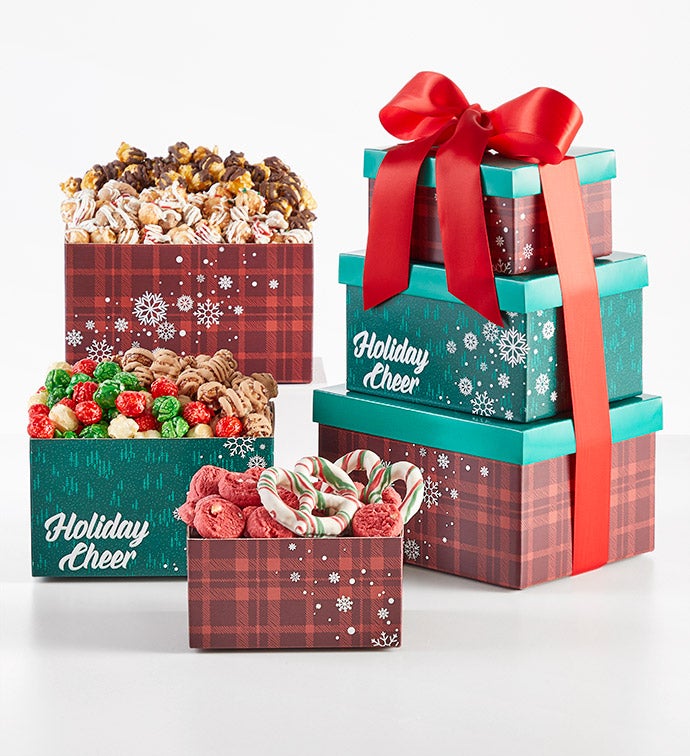 Add a photo, personal message, or both!
Personalize it FOR ONLY $4.99!
available to ship november 13 2023
Popcorn Delights
Holiday Cookie Dough Popcorn (6 oz)
Holiday Kettle Popcorn (6 oz)
Drizzled Caramel Popcorn (3 oz)
Chocolate Peanut Butter Popcorn (6 oz)
Red Velvet Batter Cookies (3 oz)
2 White Confection Covered Drizzled Pretzels (.8 oz per piece)
Gift Dimentions: 7 7/8 in L x 6 in W x 12 1/4 in H
Net Weight: 25.6 oz
Snuggle in for the best holiday season yet with this three-box gift tower that's brimming with deliciousness. Seasonal pop in holiday kettle and holiday cookie dough flavors take center stage in this stellar gift, and drizzled caramel and chocolate peanut butter popcorn make tasty accompaniments. With red velvet batter cookies and white confection-drizzled pretzels, too, this snacktastic display is a wonderful treat to share and enjoy throughout the holidays.
Popcorn Delights
Holiday Cookie Dough Popcorn (6 oz)
Holiday Kettle Popcorn (6 oz)
Drizzled Caramel Popcorn (3 oz)
Chocolate Peanut Butter Popcorn (6 oz)
Red Velvet Batter Cookies (3 oz)
2 White Confection Covered Drizzled Pretzels (.8 oz per piece)
Gift Dimentions: 7 7/8 in L x 6 in W x 12 1/4 in H
Net Weight: 25.6 oz