Make You Smile 5 Box Gift Tower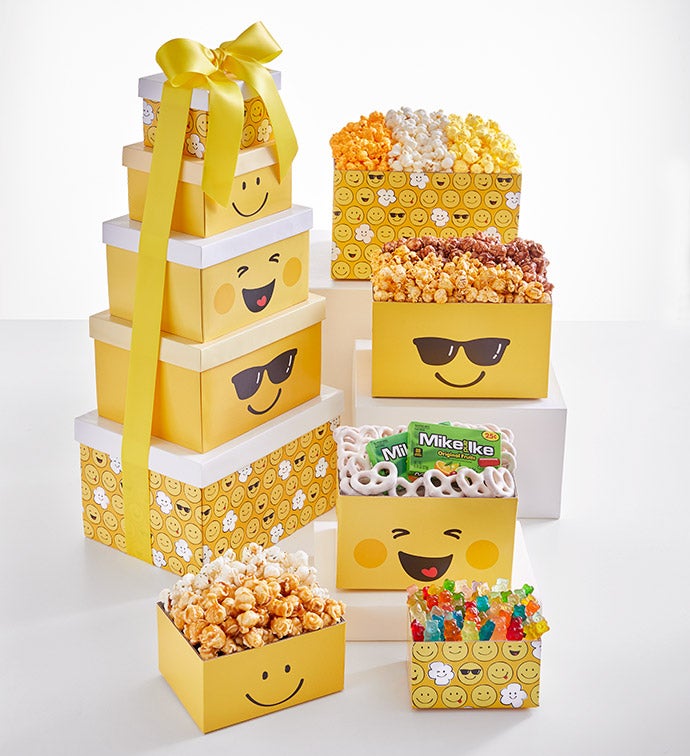 Add a photo, personal message, or both!
Personalize it FOR ONLY $4.99!
available to ship october 16 2023
Popcorn Delights
Net Weight: 14.95oz
Dimensions: 9.3750 x 7 x 20.50
1-1.2oz Butter Popcorn
1-1.6oz Cheese Popcorn
1-2oz Caramel Popcorn
1-1oz White Cheddar Popcorn
1-2oz Drizzled Caramel Popcorn
1-1oz Ranch Popcorn
1-1.6oz Habanero Popcorn
1-3oz Yogurt Covered Pretzels
2-.32oz "Expression" Chocolates
2-.75oz Albanese® Ultimate Gummi Bears
Butter, Cheese, Caramel, White Cheddar, Drizzled Caramel, Ranch, and Habanero Popcorn, yogurt Covered Pretzels, "Expression" chocolates, and Albanese® Ultimate Gummi Bears. 14.9 oz.
Popcorn Delights
Net Weight: 14.95oz
Dimensions: 9.3750 x 7 x 20.50
1-1.2oz Butter Popcorn
1-1.6oz Cheese Popcorn
1-2oz Caramel Popcorn
1-1oz White Cheddar Popcorn
1-2oz Drizzled Caramel Popcorn
1-1oz Ranch Popcorn
1-1.6oz Habanero Popcorn
1-3oz Yogurt Covered Pretzels
2-.32oz "Expression" Chocolates
2-.75oz Albanese® Ultimate Gummi Bears