Oh What Fun Musical Ultimate Gift Box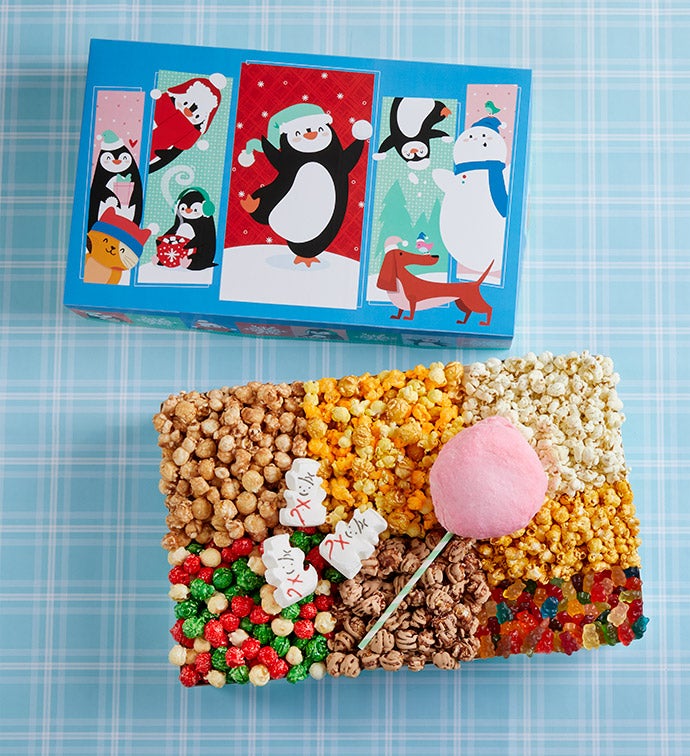 available to ship november 13 2023
Popcorn Delights
Musical Piece Plays "Jingle Bells"
Holiday Kettle Popcorn (6 oz)
Chocolate Peanut Butter Popcorn (6 oz)
Cornfusion™ Popcorn (3.5 oz)
Cinnamon Sugar Popcorn (4 oz)
Habanero Popcorn (1.6 oz)
Ranch Popcorn (1 oz)
Peeps® Snowman (3ct) (1.5 oz)
2 Albanese® 12 Flavors Gummi Bears (1 oz per piece)
Swirlz™ Candy Cane Cotton Candy (2.1 oz)
Gift Box Tower Dimensions: 18 in L x 11 1/8 in W x 4 in H
Net Weight: 27.7 oz
Christmas carols make the holidays even more festive, and this delightful musical box with its delicious assortment of popcorn and treats will surely help spread the spirit of the season. Every time you open the gift box it plays "Jingle Bells," and they'll be opening this box a lot to get at all the goodies inside. There are six different flavors of popcorn to enjoy, including green and red holiday kettle and Cornfusion™, a tasty blend of butter, cheese, and caramel popcorn, in addition to Albanese® 12 flavor gummi bears, Swirlz™ candy cane cotton candy, and a Peeps® snowman. If you're going caroling during the holidays, be sure to power up with some premium popcorn or send a someone a sweet gift they can sing along to.
Popcorn Delights
Musical Piece Plays "Jingle Bells"
Holiday Kettle Popcorn (6 oz)
Chocolate Peanut Butter Popcorn (6 oz)
Cornfusion™ Popcorn (3.5 oz)
Cinnamon Sugar Popcorn (4 oz)
Habanero Popcorn (1.6 oz)
Ranch Popcorn (1 oz)
Peeps® Snowman (3ct) (1.5 oz)
2 Albanese® 12 Flavors Gummi Bears (1 oz per piece)
Swirlz™ Candy Cane Cotton Candy (2.1 oz)
Gift Box Tower Dimensions: 18 in L x 11 1/8 in W x 4 in H
Net Weight: 27.7 oz