Help The Popcorn Factory Support Feeding America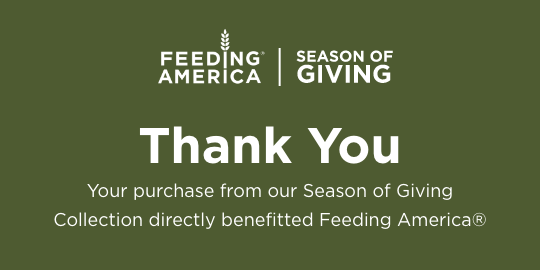 Best Sellers

Price: Low to High

Price: High to Low
Best Sellers

Price: Low to High

Price: High to Low
back to the top
Feeding America: Season of Giving
Help The Popcorn Factory Fight Hunger In America
Donations will support local communities across the country. Giving is truly the gift when helping neighbors in need. * "Net Proceeds" is defined as the gross sales price of the product less any and all taxes, service charges, shipping and handling charges, discounts, fees, surcharges, gift certificates, promotional gift certificates, promotional offers (e.g., airline miles, points, e-money, etc.) credits, rebates, chargebacks, refunds, credit card processing fees and gift certificate cancellations. A minimum donation of $50,000 will go to Feeding America®, a 501(c)(3) non-profit recognized by the IRS. Tax ID Number: 36-3673599. Feeding America® 2022. ** $1 helps provide at least 10 meals secured by Feeding America® on behalf of member food banks.
Facts About Feeding America & Why Their Mission Is Important
Join us in the fight against hunger by purchasing from our specially curated Feeding America ® collection today.
38 million people in America will face hunger this holiday season
40% of all food in America is wasted
Feeding America has 200 foodbanks and 60,00 food pantries across America
Every $1 helps to provide at least 10 meals
Last year, Feeding America helped provide 6.6 billion meals