Let It Snow Musical Gift Box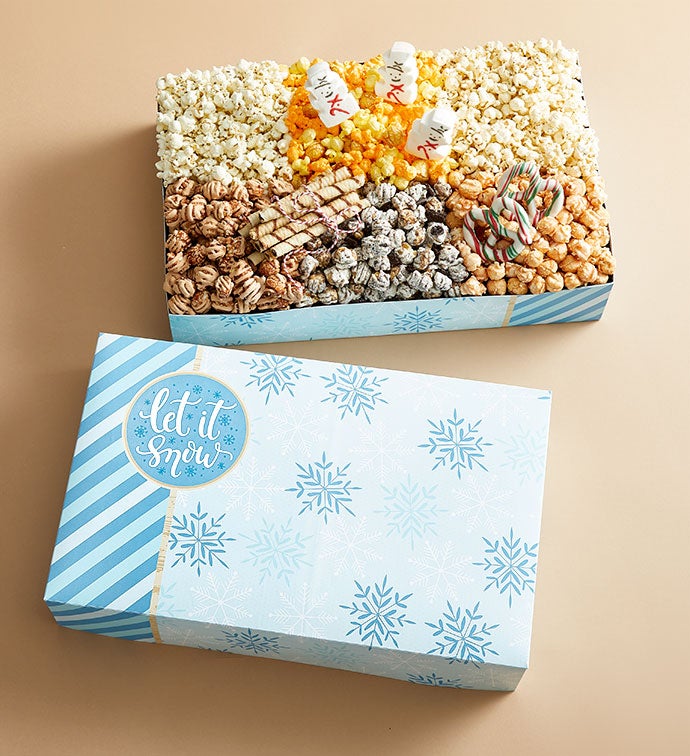 available to ship november 13 2023
Popcorn Delights
Musical Piece plays "Jingle Bells"
Cookies & Crème Popcorn (6 oz)
Chocolate Peanut Butter Popcorn (6 oz)
Cinnamon Sugar Popcorn (4 oz)
Cracked Pepper & Sea Salt Popcorn (1.6 oz)
Cornfusion™ Popcorn (3.5 oz)
Ranch Popcorn (1.6 oz)
Peeps® Snowman (3ct) (1.5 oz)
2 White Confection Covered Drizzled Pretzel (.8 oz per piece)
DeBeuk Piroulin® Dark Chocolate Wafer Rolls (3.25 oz)
Gift Box Tower Dimensions: 18 in L x 11 1/8 in W x 4 in H
Net Weight: 29.05 oz
This musical gift box filled with popcorn and sweets will make spirits bright this holiday season, especially when they open it up and it starts playing "Jingle Bells." Not only is the Christmas carol uplifting, so are the six different kinds of flavorful popcorn in this gift, including Cornfusion™ and its captivating blend of cheese, butter, and caramel popcorn. Digging into DeBeuk Pirouline® dark chocolate wafer rolls, a Peeps® snowman, and white confection-covered pretzels will be big fun, too. Christmas carols add even more spirit to the season, and thanks to popcorn's ability to make people feel good inside, this gift box will deliver twice the delight.
Popcorn Delights
Musical Piece plays "Jingle Bells"
Cookies & Crème Popcorn (6 oz)
Chocolate Peanut Butter Popcorn (6 oz)
Cinnamon Sugar Popcorn (4 oz)
Cracked Pepper & Sea Salt Popcorn (1.6 oz)
Cornfusion™ Popcorn (3.5 oz)
Ranch Popcorn (1.6 oz)
Peeps® Snowman (3ct) (1.5 oz)
2 White Confection Covered Drizzled Pretzel (.8 oz per piece)
DeBeuk Piroulin® Dark Chocolate Wafer Rolls (3.25 oz)
Gift Box Tower Dimensions: 18 in L x 11 1/8 in W x 4 in H
Net Weight: 29.05 oz