Spooky Fun 3 Box Gift Tower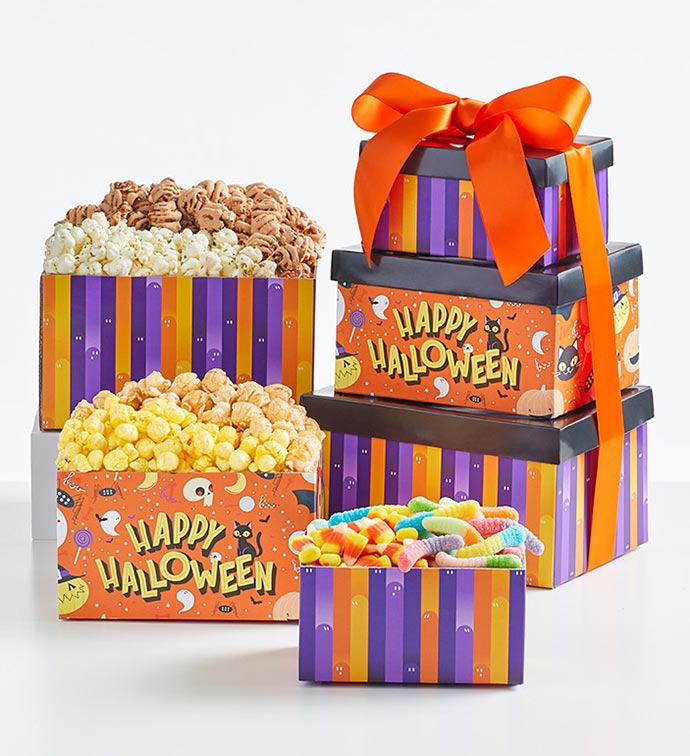 Add a photo, personal message, or both!
Personalize it FOR ONLY $4.99!
Popcorn Delights
Butter Popcorn (.75 oz)
Ranch Popcorn (1 oz)
Cinnamon Sugar Popcorn (4 oz)
Chocolate Peanut Buter Popcorn (6 oz)
Candy Corn (2 oz)
Albanese® Sour Mini Neon Gummy Worms (3.5 oz)
Gift Box Tower Dimensions: 9 in L x 6.75 in W x 11.25 in H
Net Weight: 17.25 oz
See how much spooky fun you can conjure up with three gift boxes full of flavorful popcorn and candies. The festivities start with our unbeatable butter popcorn, followed by the terrific trio of cinnamon sugar, chocolate kettle, and ranch. For a sweet and sour punch there are Albanese® sour mini neon gummi worms and classic candy corn. Popcorn's great to have around for Halloween parties and as snacks for hungry little ghouls and goblins.
Popcorn Delights
Butter Popcorn (.75 oz)
Ranch Popcorn (1 oz)
Cinnamon Sugar Popcorn (4 oz)
Chocolate Peanut Buter Popcorn (6 oz)
Candy Corn (2 oz)
Albanese® Sour Mini Neon Gummy Worms (3.5 oz)
Gift Box Tower Dimensions: 9 in L x 6.75 in W x 11.25 in H
Net Weight: 17.25 oz