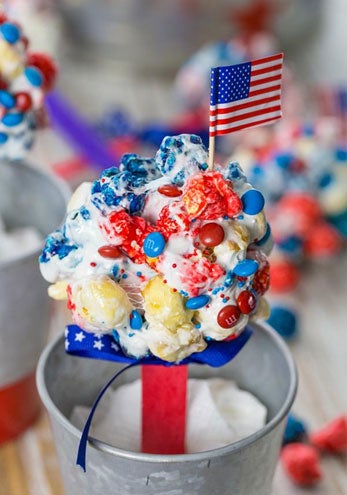 These Patriotic Popcorn Pops are a great and easy way to celebrate the Fourth of July. Throw them together, top them with your favorite red, white and blue candies or sprinkles, and tie on some fun ribbons. The hit of any party! Happy Fourth of July!
Prep Time: 15 minutes
Cook time: 0 min
Yield: 8 pops
Ingredients:
1-10 ounces package mini marshmallows
4 tablespoons butter
4 cups red popcorn from The Popcorn Factory
4 cups blue popcorn from The Popcorn Factory
4 cups white popcorn from The Popcorn Factory
1 cup mini (or regular) candies in red and blue
Red, White and Blue Sprinkles (optional)
8 Popsicle sticks
Instructions:
Add the popcorn to a large bowl and set aside. Melt butter is a large saucepan over medium high heat until melted. Add marshmallows and stir until well combined.
Pour marshmallow mixture over popcorn and stir until coated.
Using your hands (tip: grease hands with butter to avoid sticking. Cooking spray or otherwise will make the popcorn have an odd taste) form the popcorn into balls.
Place the balls on a wax paper lined baking sheet. While still warm, place a popsicle stick into each popcorn ball.
Sprinkle with red, white and blue candies and sprinkles. Allow to dry fully before serving.